TRAVEL ADVISORY UPDATE: OUT OF STATE QUARANTINE
On Tuesday, the Oregon Health Authority (OHA) updated its Travel Advisory. Based on the revised orders, essential travel now includes participation in K-12 school sports, adult, youth and club sports in accordance with the Outdoor Recreation and Outdoor Fitness Establishments Guidance (see below). This means that our student-athletes will not be required to quarantine after out of state travel for athletics going forward.
According to the Outdoor Recreation Guidance, athletes traveling are required to:
Limit exposure to those outside the travel unit during transit

All members of a travel unit including drivers, if on a bus or in a car, must wear a mask, face shield or face covering and ensure a minimum of three (3) feet between passengers within the travel unit. 

Limit travel to those who have been in regular contact and are considered essential personnel (i.e., athletes, coaches, medical staff).   

Document the names of all passengers including the driver, pilot and flight staff, along with the date and time of the trip and the vehicle number/license, if applicable. 

Allow drivers to transport multiple travel units if wearing a mask and sanitizing hands before and after each driving each group. Vehicles must be cleaned between transport of each travel unit following transportation guidelines. 

If experiencing COVID-19 symptoms, contact your health care provider for testing. 

Cooperate with Local Public Health Authority, if contacted, for purposes of contact tracing.  
TECHNOLOGY: USING YOUR OWN DEVICE
Once hybrid instruction begins, students will be expected to bring a device to and from school each day, just as they would a textbook. Students who have been using a personal device during Comprehensive Distance Learning can check out a district-provided Chromebook (or Chrome Tab grades K-1) from their school if preferred. If you need to check out a GAPS Chromebook or Chrome Tab, please contact your school office.  
Please make sure the device is fully charged prior to coming to school; with space limitations, charging may be difficult during the school day. There will no longer be classroom Chromebook carts, as each student should have a device checked out to them. 
Technical support will not be available for personal devices beyond helping to log the device onto the network or to access Zoom. There will be a limited number of devices for student use in each class in the event a student has a technical difficulty. These devices will remain in the classroom and will not be checked out to students. Thank you. 
ATHLETICS
GAPS athletics resume for Season 2
UPCOMING FAMILY FORUMS
Our next K-12 Family Forums will take place on Thursday, March 11, with a Spanish forum from 6:30-7:30 p.m. followed by an English forum from 7:30-8:30 p.m. Here are the details:
K-12 Family Forums
Thursday, March 11 – 6:30-7:30 p.m. – Spanish | 7:30-8:30 p.m. – English

Phone call in number: 1-253-215-8782

Meeting ID: 826 4562 1272
REMINDER: HYBRID LEARNING TIMELINES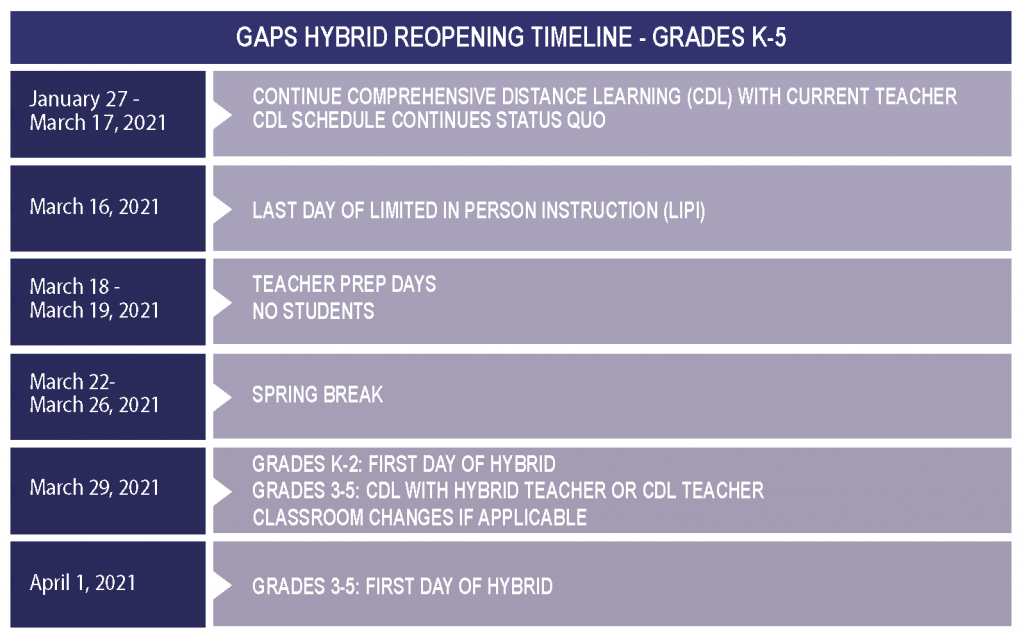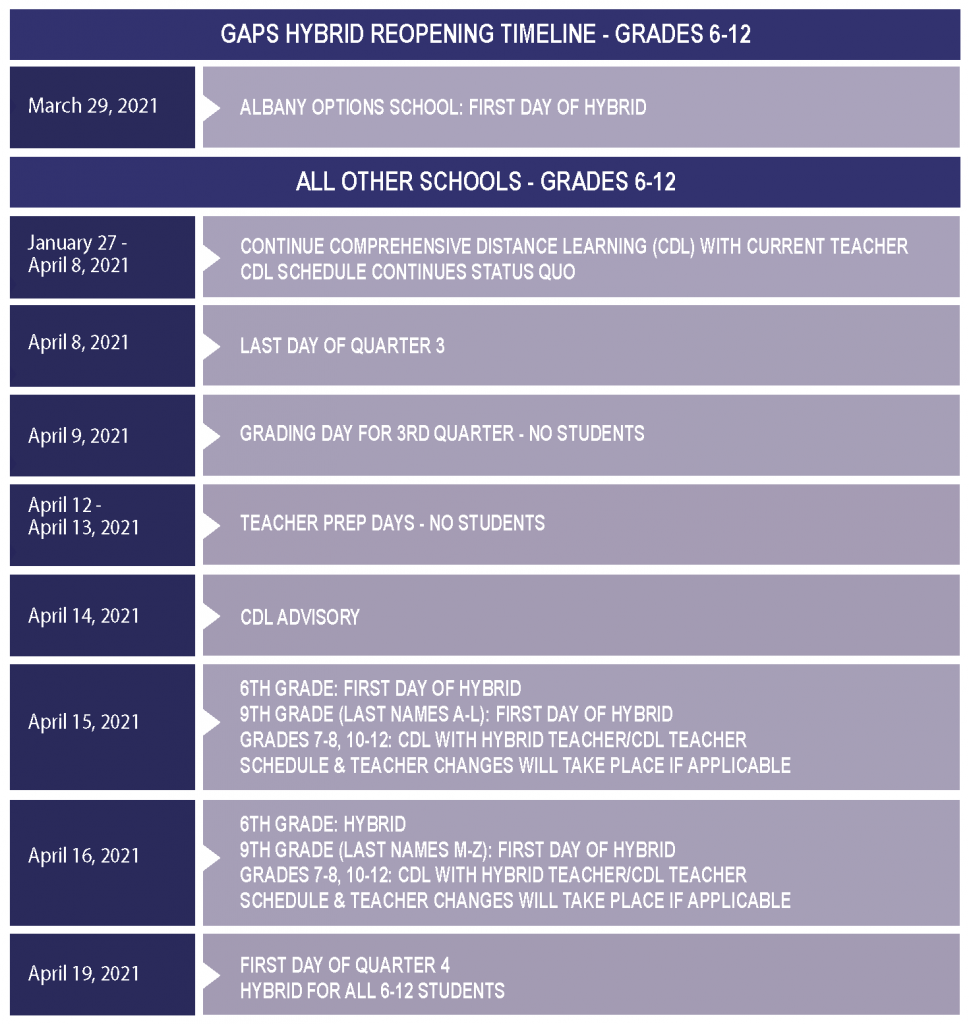 More information: 
Elementary School (Grades K-5)
Middle School (Grades 6-8)
High School (Grades 9-12)
UPCOMING EVENTS (CLICK LINKS FOR MORE INFORMATION)
Albany Public Schools Foundation
iRun for Kids Downtown Scavenger Hunt (March 5-13)
All iRun for Kids Events
Ophelia's Place
Run for Girls Virtual 5K (March 7-13) Help raise funds that will empower, educate and support girls ages 10-18 through Ophelia's Place's programs.
---
Spanish Translation
ACTUALIZACIÓN SOBRE LAS RECOMENDACIONES SOBRE VIAJES: CUARENTENA FUERA DEL ESTADO
El martes, la Autoridad de Salud de Oregón (OHA por sus siglas en inglés) actualizó su recomendación sobre viajes. Según las órdenes revisadas, los viajes esenciales ahora incluyen la participación en deportes escolares de Kínder a 12° grado, deportes para adultos, jóvenes y clubes deportivos de acuerdo con la Guía de establecimientos de recreación al aire libre y acondicionamiento físico al aire libre (ver más abajo). Esto significa que no se requerirá que nuestros estudiantes-atletas se pongan en cuarentena después de un viaje fuera del estado para deportes en el futuro.
De acuerdo con la Guía de recreación al aire libre, los atletas que viajan deben:
Limitar la exposición a quienes se encuentran fuera de la unidad de viaje durante el tránsito

Todos los miembros de una unidad de viaje, incluidos los conductores, si están en un autobús o en un automóvil, deben usar una máscara, careta facial de plástico o cubierta facial y asegurarse de que haya un mínimo de tres (3) pies entre los pasajeros dentro de la unidad de viaje.

Limitar los viajes a aquellos que han estado en contacto regular y se consideran personal esencial (es decir, atletas, entrenadores, personal médico).

Documentar los nombres de todos los pasajeros, incluido el conductor, el piloto y el personal de vuelo, junto con la fecha y hora del viaje y el número / licencia del vehículo, si corresponde.

Permitir que los conductores transporten varias unidades de viaje, si usan una máscara y se desinfectan las manos antes y después de cada conducción de cada grupo. Los vehículos deben limpiarse entre el transporte de cada unidad de viaje siguiendo las pautas de transporte.

Si experimenta síntomas de COVID-19, comunicarse con su proveedor de atención médica para realizar una prueba.

Cooperar con la Autoridad de Salud Pública Local, si se contacta, con el propósito de rastrear contactos.
TECNOLOGÍA: USANDO SU PROPIO DISPOSITIVO
Una vez que comience la instrucción híbrida, se espera que los estudiantes traigan un dispositivo hacia y desde la escuela todos los días, tal como lo harían con un libro de texto. Los estudiantes que hayan estado usando un dispositivo personal durante el Aprendizaje a Distancia Integral pueden retirar un Chromebook provisto por el distrito (o Chrome Tab para Kínder a 1º grado) de su escuela si lo prefieren. Si necesita retirar un Chromebook o un Chrome Tab de GAPS, comuníquese con la oficina de su escuela.
Asegúrese de que el dispositivo esté completamente cargado antes de venir a la escuela; con limitaciones de espacio, cargarlo puede resultar difícil durante el día escolar. Ya no habrá carritos de Chromebooks en el salón ya que cada estudiante debe tener un dispositivo prestado a ellos.
El apoyo técnico no estará disponible para dispositivos personales más allá de ayudar a registrar el dispositivo en la red o acceder a Zoom. Habrá un número limitado de dispositivos para el uso de los estudiantes en cada clase en caso de que un estudiante tenga una dificultad técnica. Estos dispositivos permanecerán en el salón y no se prestarán a los estudiantes.  
DEPORTES
Los deportes de GAPS se reanudan para la segunda temporada
PROXIMOS FOROS FAMILIARES
Nuestros próximos foros familiares de Kínder a 12° grado, se llevarán a cabo el jueves 11 de marzo, con un foro en español de 6: 30-7: 30 p.m. seguido de un foro en inglés de 7: 30-8: 30 p.m. Aquí están los detalles:
Foros familiares de Kínder a 12° grado
Jueves 11 de marzo – 6:30-7:30 p.m. – español | 7:30-8:30 p.m. – inglés
Conexión por llamada telefónica: 1-253-215-8782

Número de identificación para la junta: 826 4562 1272
RECORDATORIO: CRONORAMA DEL APRENDIZAJE HIBRIDO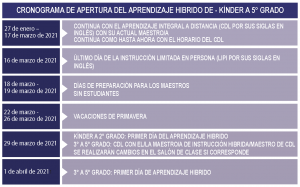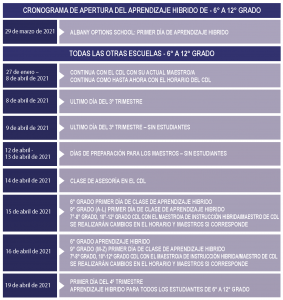 Mas información:
Escuela Primaria (Kinder-5° grado)
Escuela Secundaria (6°- 8° grado)
Escuela Preparatoria (9°-12° grado)
PROXIMOS EVENTOS (MARQUE SOBRE LOS ENLACES PARA ENCONTRAR MAS INFORMACION)
Albany Public Schools Foundation (Fundación de las Escuelas Públicas de Albany)
iRun for Kids Busqueda del tesoro en el centro del pueblo (5 al 13 de marzo)
Todos los eventos "iRun for Kids"
Ophelia's Place (Programa de empoderamiento para niñas)
Evento de correr/caminar "Run for Girls Virtual 5K" (7 al 13 de marzo). Ayude a recaudar fondos que empoderarán, educarán y apoyarán a las niñas de 10 a 18 años a través de los programas de Ophelia's Place.