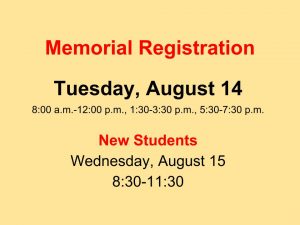 Tuesday, August 14, 8 am-12 pm, 1:30-3:30 pm, 5:30-7:30 pm
New Students: Wednesday, August 15, 8:30-11:30 am (Incoming 6th graders from feeder schools are NOT considered new students.)
If you are unable to attend at these times, please call our office to make other arrangements. (541-967-4537).
Students do not need to attend, but parent/guardian presence is required.
Computers and assistance will be available if you are unable to complete online registration before you come.
For all the details, check out the Registration Newsletter that was mailed to parents last week.